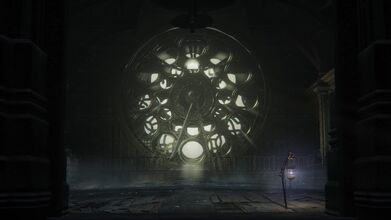 The
Astral Clocktower
is a
location
in
Bloodborne
's
The Old Hunters
dlc.
Description
The Astral Clocktower is where Lady Maria of the Astral Clocktower resides in the Hunter's Nightmare realm, hence her name.
Connections
Boss
Notes
Trivia
The floor of the Astral Clocktower's chamber is filled with petals of lumenflowers, they likely came from the Lumenwood Garden.
The Astral Clocktower itself has 13 Caryll Runes etched on the edges. The one that opens the door is the Deep Sea rune.
If we use the Great Deep Sea as the starting event, the anti-clock wise order are: Great Deep Sea , Beast's Embrace, Beast, Hunter, unnamed rune, Radiance, Communion, Moon, Eye, Guidance, Formless Oedon, Oedon Writhe, Lake.
Gallery
Caryll Rune Symbol on the Clock
Ad blocker interference detected!
Wikia is a free-to-use site that makes money from advertising. We have a modified experience for viewers using ad blockers

Wikia is not accessible if you've made further modifications. Remove the custom ad blocker rule(s) and the page will load as expected.