The Astral Clocktower Key is a Key Item in Bloodborne's The Old Hunters dlc.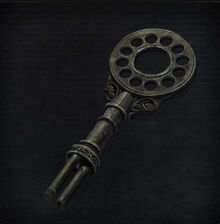 Description
In-Game Description
Key to the Astral Clocktower at the top of the Grand Cathedral.
The caretaker of the tower's numerous patients, known to them only as Lady Maria, made her home behind the giant star-interpreting clock.
Availability
Use
Unlocks the Astral Clocktower
Notes
Trivia
Ad blocker interference detected!
Wikia is a free-to-use site that makes money from advertising. We have a modified experience for viewers using ad blockers

Wikia is not accessible if you've made further modifications. Remove the custom ad blocker rule(s) and the page will load as expected.