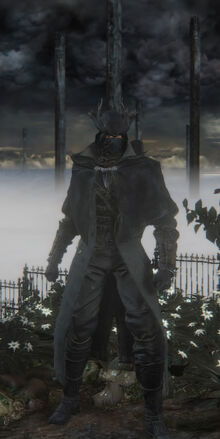 Attires are a type of equipment in Bloodborne.
Description
Attires are the sets of clothing and armor that players can wear in Bloodborne.
Since Bloodborne's combat focuses on heavily reactive and fast-paced combat against strong and agile monsters and foes, players should understand that wearing a specific attire is not really that important when engaging in fights. Players aren't meant to get hit, they cannot take a lot of damage and they must stay on the move, keep their wits about them and position themselves well when fighting, in order to survive.
This means that attires only reduce a very small fraction of damage that is taken from a particular source. However, if the right attire is chosen in fights against enemies that deal specific types of hard-hitting damage, they can be of great use in staying alive.
They are also very useful if they have high Resistances. Slow Poison and Frenzy may not be common afflictions to a player's experience, but whenever present, they will surely cause a hindrance.
Attire Stats
| Physical DEF | VS. Blunt | VS. Thrust | Blood DEF | Arcane | Fire | Bolt | Slow Poison RES | Rapid Poison RES | Frenzy RES | Beasthood |
| --- | --- | --- | --- | --- | --- | --- | --- | --- | --- | --- |
Attire Sets
Unique Attire
Head
Chest
Arms
Legs
Ad blocker interference detected!
Wikia is a free-to-use site that makes money from advertising. We have a modified experience for viewers using ad blockers

Wikia is not accessible if you've made further modifications. Remove the custom ad blocker rule(s) and the page will load as expected.