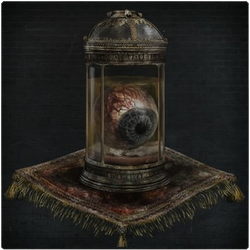 The Bloodshot Eyeball is a material in Bloodborne.
Description
In-Game Description
Material used in a Holy Chalice ritual.
An exquisite eyeball removed quickly after death, or perhaps even before. Used to unlock the seal of the old labyrinth hintertombs.
Availability
Use
Bloodshot Eyeball can be used at a Ritual Altar, in order to create a Chalice Dungeon.
Ad blocker interference detected!
Wikia is a free-to-use site that makes money from advertising. We have a modified experience for viewers using ad blockers

Wikia is not accessible if you've made further modifications. Remove the custom ad blocker rule(s) and the page will load as expected.