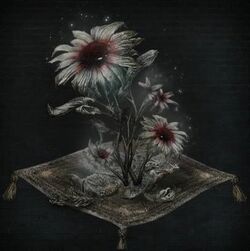 Blooming Coldblood Flower is a material in Bloodborne.
Description
In-Game Description
Material used in a Holy Chalice ritual.
Pale vegetation that commonly grows on coldblood in a place long abandoned, that has bloomed into a bright red stygian flower.
Availability
Use
Used to create "Depth 5" Loran Chalices

four (4) of are always required
Ad blocker interference detected!
Wikia is a free-to-use site that makes money from advertising. We have a modified experience for viewers using ad blockers

Wikia is not accessible if you've made further modifications. Remove the custom ad blocker rule(s) and the page will load as expected.