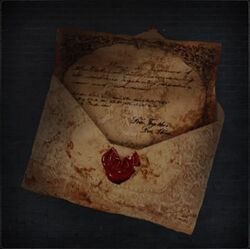 The Cainhurst Summons is a key item in Bloodborne.
Description
In-Game Description
An old blood-stained summons, inviting an honored guest to the forsaken Castle Cainhurst.
Rather bafflingly, it is addressed to you.
Do not hesitate; the stagecoach leaves from Hemwick crossing.
Location
The Cainhurst Summons can be found on a gurney in Iosefka's Clinic, in the room at the top of the stairs from the 1st Floor Sickroom lamp. Players must first unlock the shortcut to Iosefka's Clinic from the Forbidden Woods.
Use
Spawns a stagecoach near the obelisk monument in Hemwick Charnel Lane that will transport the Hunter to Forsaken Cainhurst Castle.
Notes
The fastest way to reach the obelisk is to unlock the Witch's Abode lamp and walk from there. It will be at the bottom of the hill.
Use of the Summons requires that the Witch of Hemwick boss has been killed.
Trivia
As it is addressed to "you" specifically, this summons may be the cause for the Hunter's arrival in Yharnam.
This is somehow a reference to Bram Stoker's Dracula, as Jonathan Harker also received a letter summon and was transported to the castle in a stagecoach.
Gallery