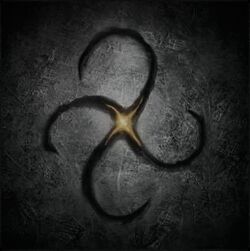 Clockwise Metamorphosis is a Caryll Rune in Bloodborne.
Description
In-Game Description
A secret symbol left by Caryll, runesmith of Byrgenwerth.
The twisted cross means "metamorphosis".
Rotated clockwise, this rune boosts HP.
The discovery of blood made their dream of evolution a reality. Metamorphosis, and the excesses and deviation that followed, were only the beginning.
Effects
One of the "Metamorphosis" runes. Raises HP.
Clockwise Metamorphosis (1): Boosts max HP +5% - Forbidden Woods, in the path with the closed gate that leads to the boss
Clockwise Metamorphosis (2): Boosts max HP +10% - Nightmare Frontier, in a cave near the place where Patches throws the player into the poisonous pool
Clockwise Metamorphosis (3): Boosts max HP +15% - found in Pthumeru Ihyll Root Chalice Dungeons
Notes
It is only really useful if players have a very a high Vitality, otherwise, it is not as great.
It is essential for players who wish to engage in invasions or cooperations, as all but the host gets a decreased health of about 30%. Equipping the best two variants of the rune will almost negate that problem, and make it easier for invaders or cooperators to defend themselves.
Trivia
Ad blocker interference detected!
Wikia is a free-to-use site that makes money from advertising. We have a modified experience for viewers using ad blockers

Wikia is not accessible if you've made further modifications. Remove the custom ad blocker rule(s) and the page will load as expected.