The Doll Set is a set of Attire in Bloodborne.
Doll Set
Attire Type
Attire
Stats
110
150
110
110
134
150
102
150
93
190
75
Found
Availability
Set Pieces
Characteristics
Terrible Physical Defenses
Very poor Elemental Defenses
High Slow Poison Resistance
Moderate Rapid Poison Resistance
Decent Frenzy Resistance
Decent Beasthood
Notes
Trivia
The Doll Set has an extensive flowery pattern spread across every piece of cloth.
It has a Lumenflower broche, just like the Maria Hunter Set. Albeit a much more silvery color.
It is slightly smaller than The Doll 's since she is taller.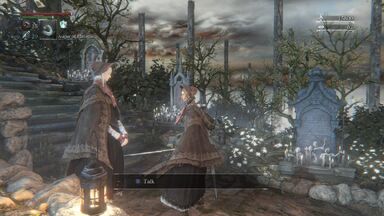 Ad blocker interference detected!
Wikia is a free-to-use site that makes money from advertising. We have a modified experience for viewers using ad blockers

Wikia is not accessible if you've made further modifications. Remove the custom ad blocker rule(s) and the page will load as expected.