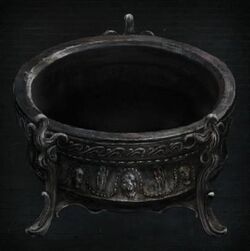 The Hintertomb Chalice is a Chalice item in Bloodborne.
This Chalice is obtained from a chest in the Central Pthumerian Labyrinth (Central Pthumeru Chalice).
Description
In-Game Description
A chalice that breaks a labyrinth seal. Hintertombs are the peripheral catacombs of the old underground labyrinth.
To this day, the Watchers continue to expand the hintertombs, unceremonious catacombs filled with graves and death.
Use
The Hintertomb Chalice can be used at a Ritual Altar to create the following Chalice Dungeon:
General Chalice Info

| | |
| --- | --- |
| Depth | 2 |
| Area | Hintertomb |
Ad blocker interference detected!
Wikia is a free-to-use site that makes money from advertising. We have a modified experience for viewers using ad blockers

Wikia is not accessible if you've made further modifications. Remove the custom ad blocker rule(s) and the page will load as expected.