Hunter Tools are a type of consumable item in Bloodborne.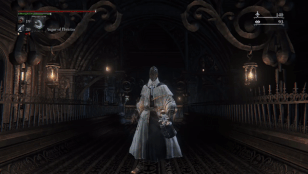 Description
Hunter Tools are items that can aid Hunters in their journey. They can be found through the world of Bloodborne and can be a great boon for those who delve into the Arcane.
Upon activating any Hunter Tool, a specific amount of Quicksilver Bullets will be consumed for its activation. Failing to have the specific amount will result in an unsuccessful cast of the tool.
Arcane Hunter Tools
Hunter Tools are available to the player once they are found, but only if the they have the necessary Arcane requirement to use it. Some are defensive, others offensive.
These are the Defensive type of Hunter Tools:
These are the Offensive type of Hunter Tools:
Bloodtinge Hunter Tools
With the addition of Patch 1.07, a new Hunter Tool was added to the players' arsenal. This one, as opposed to all other Hunter Tools, scales entirely off of Bloodtinge, and deals pure Blood damage.
Madaras Whistle (Req:18 Bloodtinge/Cost: 4 QS) - Upon casting this Hunter Tool, the player will blow on the whistle, producing a high pitch sound which summons a giant serpent from the Nightmare, directly beneath the caster, that will savagely bite anything that is above it at the time, throwing its victims into the air. Though it can harm the player, it can be great against groups, especially in tight corridors.
Notes
It can be a good idea for players who wish to focus their playstyle around Hunter Tools, to use Caryll Runes that cater to the use of Quicksilver Bullets, such as the Oedon Writhe and Formless Oedon runes.
Players who don't want to invest heavily in Arcane, can still get to use a fairly good variety of Hunter Tools by just raising the stat to 15. It allows you to cast all defensive-type, Arcane Hunter Tools, and the Empty Phantasm Shell which buffs weapons by a static amount. Going a step further is recommended so players can access the Blacksky Eye, a Hunter Tool that has many useful quirks to it.
Trivia
When casting Hunter Tools that focus on dealing Arcane damage, the player will summon a portal to the Cosmos, and from it, the attack is executed.
Hunter Tools are essentially the Bloodborne-equivalent of Spells in Dark Souls. The only difference that they all scale with a single stat, save but one.
Gallery