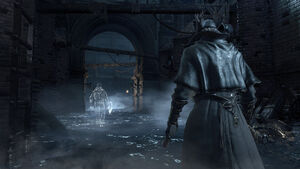 An Illusion is an online game mechanic in Bloodborne.
Description
An illusion is a white phantom of another player who is playing the same map online. They may give you hints on how to proceed or the presence of any hidden enemy in the area.
Illusions cannot be interacted with.
Gallery
Ad blocker interference detected!
Wikia is a free-to-use site that makes money from advertising. We have a modified experience for viewers using ad blockers

Wikia is not accessible if you've made further modifications. Remove the custom ad blocker rule(s) and the page will load as expected.