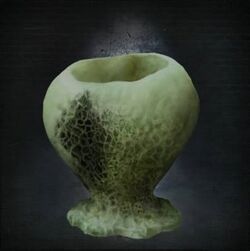 The Isz Root Chalice is a Chalice item in Bloodborne.
Description
In-Game Description
Root Chalice that breaks multiple labyrinth seals.
Root Chalices, used in rituals to break old labyrinth seals, are said to change the labyrinth's form each time.
According to the Choir, the land of Isz lies in contact with the cosmos, which allowed the Great Ones to function on transcendental planes of thought.
Availability
Use
The Isz Root Chalice can be used at a Ritual Altar to create the following Chalice Dungeons:
General Chalice Info

| | |
| --- | --- |
| Depth | 5 |
| Area | Isz |
Notes
Trivia