The Moon Cycles are a progression mechanic in Bloodborne.
Description
Moon Cycles are a visual marker of progression in the story of Bloodborne. They are triggered upon interacting with something in the game that changes the perception of The Hunter. However, this perception is also passed on to the entire world surrounding him. And the characters in the world will react accordingly.
Cycles
Twilight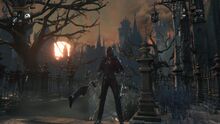 1st Cycle

Starting cycle when player begins the game.
Visually, it is still yet to be night, the sun is setting, the sky is orange in color.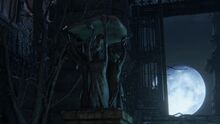 Nightfall
Blood Moon
Notes
Players should rescue all rescuable NPCs before the Blood Moon rises. If the player fails to do this, the NPC will become unavailable for the rest of the game.
Trivia
The Moon phase in Hunter's Dream is not affected by the Moon phase in the waking world. The Blood Moon in Hunter's Dream rises when the Moon Presence descends. After it leaves, the moon becomes normal again.
Gallery
Sunset
Night Fall
Blood Moon