The Nightmare Church is a location in Bloodborne's The Old Hunters dlc.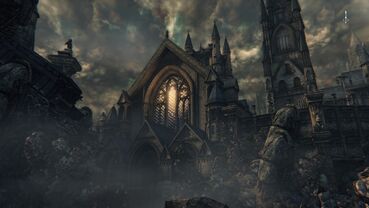 Description
The Nightmare Church is a small church that appears to serve as a checkpoint to the boss fight that lies ahead of the area.
Connections
Notes
There is a bloodied undead human that is beating his hand on the large gate just outside the church. This being drops 5 Blood Vials and will always respawn. A good method to farm Vials.
The Butcher Set is deep into the path where the axe-wielding Nightmare Executioner comes out.
Players can summon 2 out 3 NPCs in the area. Henriet, Valtr or the Younger Madaras Twin.
Trivia
Gallery
Ad blocker interference detected!
Wikia is a free-to-use site that makes money from advertising. We have a modified experience for viewers using ad blockers

Wikia is not accessible if you've made further modifications. Remove the custom ad blocker rule(s) and the page will load as expected.