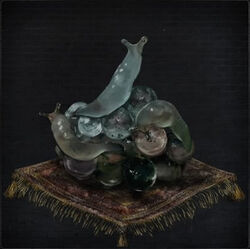 The Pearl Slug is a material in Bloodborne.
Description
In-Game Description
Material used in a Holy Chalice ritual.
Of the all the strange lifeforms that reside in the nooks and crannies of the old labyrinth, the slugs are clear signs of the left-behind Great Ones.
Location
Use
Used to create all Isz Chalices:

Three (3) are always required.
Trivia