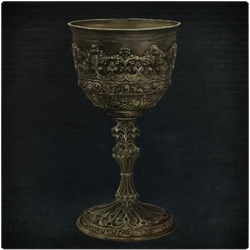 The Pthumeru Chalice is a Chalice item in Bloodborne.
This Chalice is obtained after defeating the Blood-starved Beast in Old Yharnam.
Description
In-Game Description
Ritual chalice found in the Church of the Good Chalice.
Use in a ritual at the tomb altar in the Hunter's Dream to break the seal of the old underground labyrinth.
Let the chalice reveal the tomb of the gods; let blood be the hunter's nourishment.

...And let ye partake in communion...
Use
The Pthumeru Chalice can be used at a Ritual Altar to create the following Chalice Dungeon:
General Chalice Info

| | |
| --- | --- |
| Depth | 1 |
| Area | Pthumeru |
Ad blocker interference detected!
Wikia is a free-to-use site that makes money from advertising. We have a modified experience for viewers using ad blockers

Wikia is not accessible if you've made further modifications. Remove the custom ad blocker rule(s) and the page will load as expected.