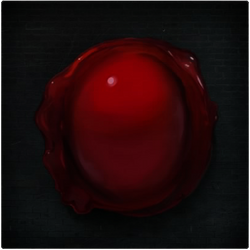 The Red Blood Gem is a type of Blood Gem in Bloodborne.
Description
In-Game Description
A blood gem that fortifies weapons and adds various properties.
Droplet blood gems are special gems that adapt to various weapons and shapes.
Created from a bright-red brooch, this blood gem strengthens the effect of rallying. A quintessential hunter skill, rallying symbolizes the battle-worn hunter who is often the only thing standing after a bloodbath.
Availability
The Red Blood Gem is obtained after using the Red Jeweled Brooch.
Effects
Droplet

Rating
Effects
4

Physical ATK UP +2.7%
Boosts rally potential +1.8%
Ad blocker interference detected!
Wikia is a free-to-use site that makes money from advertising. We have a modified experience for viewers using ad blockers

Wikia is not accessible if you've made further modifications. Remove the custom ad blocker rule(s) and the page will load as expected.