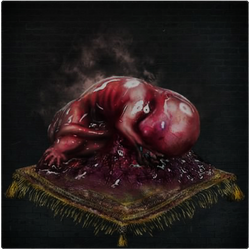 Red Jelly is a material in Bloodborne.
Description
In-Game Description
Material used in a Holy Chalice ritual.
Stillborn infants born of a creature of unknown origin, of the type found in some corners of the old labyrinth.
Location
Use
Trivia
The Red Jelly is a stillborn fetus of a creature presumed to be native to the Chalice Dungeons.

However, due to its humanoid appearance, it is not farfetched to theorize that it is in fact of Pthumerian origin.