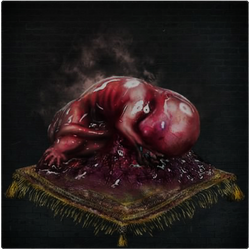 Red Jelly is a material in Bloodborne.
Description
In-Game Description
Material used in a Holy Chalice ritual.
Stillborn infants born of a creature of unknown origin, of the type found in some corners of the old labyrinth.
Location
Use
Trivia
The Red Jelly is a stillborn fetus of a creature presumed to be native to the Chalice Dungeons.

However, due to its humanoid appearance, it is not farfetched to theorize that it is in fact of Pthumerian origin.
Ad blocker interference detected!
Wikia is a free-to-use site that makes money from advertising. We have a modified experience for viewers using ad blockers

Wikia is not accessible if you've made further modifications. Remove the custom ad blocker rule(s) and the page will load as expected.