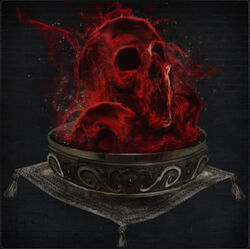 Ritual Blood (5) is a material in Bloodborne.
Description
In-Game Description
Material used in a Holy Chalice ritual.
One of the basic ingredients used to satiate a Holy Chalice is this incoagulable blood.
When all is melted in blood, all is reborn.
Availability
Use
Ritual Blood (5) is a basic material used in Chalice Rituals, in order to create Chalice Dungeons.
Videos