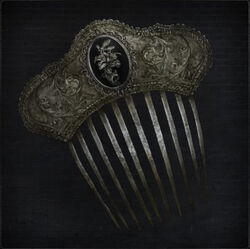 The Small Hair Ornament is a key item in Bloodborne.
Description
In-Game Description
A small, very ordinary hair ornament.
Although it has been lost for quite some time, one can still see signs of the care with which this tasteful ornament was once kept.
Its color would stand out most brilliantly against a head of grayish hair.
Location
Use
The Small Hair Ornament can be given to The Doll in the Hunter's Dream. She will then give the Hunter a Tear Stone.
Notes
It will trigger new dialogue with The Doll.
Trivia
This item does not specifically belong to The Doll, as it has no allusions to it, save for the grayish hair. However, that could mean that it was not meant for The Doll, but rather to Maria.
It appears to depict a flower. Perhaps a Lumenflower.