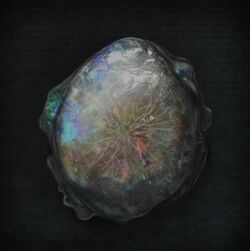 The Tear Blood Gem is a unique Blood Gem in Bloodborne.
Description
In-Game Description
A blood gem that fortifies weapons and adds various properties.
Droplet blood gems are special gems that adapt to various weapons and shapes.
Created from a shining silver doll tear, this blood gem is a quiet but unfaltering friend that continually restores HP, the life essence of a hunter. Perhaps the doll's creator had wished for just such a friend, albeit in vain.
Availability
Effects
Droplet

| Rating | Effect |
| --- | --- |
| 8 | HP continues to recover +2 |
Notes
Trivia
Ad blocker interference detected!
Wikia is a free-to-use site that makes money from advertising. We have a modified experience for viewers using ad blockers

Wikia is not accessible if you've made further modifications. Remove the custom ad blocker rule(s) and the page will load as expected.