The Underground Cell Key is a Key Item in Bloodborne's The Old Hunters dlc.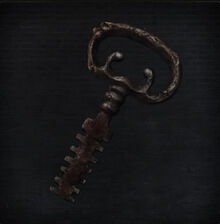 Description
In-Game Description
Key to the cell below the Grand Cathedral.
Hunters are held within the underground cell, so that things better left unseen, better left unknown, will decay quietly in the fallow darkness.
Location
Use
Unlocks all of the cells in the Dungeon, with exception of the one that lies beneath.
Notes
This item allows access to the Yamamura Set and the Church Pick. It also allows players to summon Yamamura later on if they equip the Impurity rune.
Players can jump from atop the ladder that can be climbed, from the "Patient Room Floor 2", to reach the key without having to climb to the top of the Research Hall. This allows earlier access to the above mentioned gear.
One of the two keys that unlock cells in the dungeon, the other is the Underground Cell Inner Chamber Key.
Trivia
Like the Balcony Key, this too is a very stubby key, the only other one like it.
Ad blocker interference detected!
Wikia is a free-to-use site that makes money from advertising. We have a modified experience for viewers using ad blockers

Wikia is not accessible if you've made further modifications. Remove the custom ad blocker rule(s) and the page will load as expected.