Nioh released on February 4, 2017 for the PS4 and Microsoft Windows and all it took just a few days or a week to prove why it is better than Souls games. Bold statement I know, today I will talk about why so people can play it, and also for attention. Nioh takes place in Feudal Japan and is all about William Adams, an english man crossing paths with the english alchemist, Edward Kelley; who stole your guardian spirit and who is single handedly tearing Japan apart by unleashing Yokai demons upon the people. William will follow Kelley across battlefields, villages, temples and strongholds to finish what Kelley started and become a great Samurai in the process.
Bosses:
The bosses in Nioh are eaily cooler than those in Bloodborne and maybe even the bosses in Dark Souls iii. The bosses are either Daimyos, Samurai or Yokai. The bosses are all unique from one another and for the most part are pretty challenging.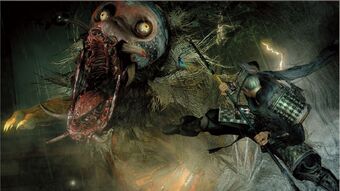 Examples: Nue, Onmoraki, Orgress, Giant Toad and Onryoki
Areas:
While the areas are not nearly as varied as those in Soulsborne, the one thing that Nioh areas do better is the general atmosphere. In Nioh, right before Nue, you are in a town/stronghold area, and it flawlessly gives off that vibe. In Bloodborne, when I arrive at Central Yharnam, besides feeling the grind about to become unavoidable, I just don't buy the place you know? It feels like a bustling city, but you get in and it's like an illusionary wall that shows something false.
Characters:
The Characters in Nioh beat Bloodborne by a clear mile, but not Dark Souls. The characters in Nioh are quicrky, believable and feel like very, very realistic human beings. Lets talk about Gilbert. I don't buy Gilbert, I like him but he doesn't seem like a realistic personalilty. I know that he is a minor character and isn't supposed to be winning some kind of award, but just seems like a fake person.
Rewards:
You get new weapons at every corner, with better damage, durability and skills. You never have to worry about your favorite weapon breaking, because you shouldn't be grinding and farming areas for too long, so you will always get the next best thing. The loot besides weapon is much more plentiful and all and all, 
will fuel you to keep going on.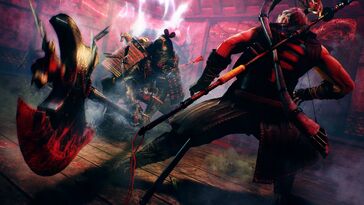 Combat:
The combat in Nioh is easily 3x faster than Bloodborne, as you zip out of the way of attacks and unleash huge combos and must stay up you foes ass until they die. The Ki (stamina) is key (get it) in battle, because you can make your foes run out of energy, attack them to make them fall down and initiate a critical attack. When your in combat, you feel like an actual Samurai warrior as you dodge with super athlete speed and return the favor.