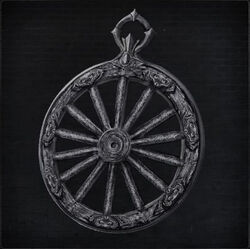 The Wheel Hunter Badge is a key item in Bloodborne.
Description
In-Game Description
Martyr Logarius led a band of Executioners, and this badge was crafted at their dedicated workshop. The Wheel symbolizes righteous destiny.
Their workshop was a secretive enclave of mystical beliefs and heady fanaticism which served as the backbone of the Executioners' unique brand of justice.
Availability
Unlocks
The following items can be purchased from the Bath Messengers:
Right Hand Weapons:
Attire:
Trivia
Resembles the Logarius Wheel, the weapon of choice of the Executioners.
Adds a clapping Messenger directly to the right and in front of the original Messenger of the Bath Messenger.